Materials have a key role in a reggio-inspired environment. They must draw the children in and entice them to explore, to create, to undo and redo and to wonder. They must be carefully selected by the teacher to prompt learning and lead the children towards discovery.
So what are we talking about here? What is so special about Reggio materials?
First of all, like the Montessori materials, they must be aesthetically pleasing, natural (wood/ceramic/metal rather than plastic) to trigger the interest of the child and invite him to play. They must call to his senses (which usually is achieved by the fact that Reggio classroom use natural items as well as authentic materials). Unlike Montessori whose materials are didactic and can only be used for one purpose and one way only, Reggio inspired materials must be open-ended.

What are open-ended materials? Simply materials that can be transformed, that comes to life in the hands of a child. Materials that require the child to use their imagination or their experiences. Bocks are a very good example of what I mean here by "open-ended". If I give a child a block that has been shaped like a car, it will be used as a car. But if I offer a plain wooden block to the child, he will use that block as a tree, as a bridge, as a house, as a tower etc.. Here is the beauty of the open-ended materials: they enhance the play experience because the child is a lot more involved in the process of playing (imagining, solving a problem, finding a solution, creating, innovating, discussing, explaining etc..)
So what kind of open-ended materials have I brought in our classroom:
silks and scarves in the Small World area for the children to create sceneries and landscapes.

simple wooden blocks (I bought bigger sized blocks)

fabric scraps in various sizes and textures to a small collection of animal figurines or people

cotton wool and natural materials like rocks, sticks, pinecones in the Small Area.

basket of pebbles to the block area and see how your child incorporates them into their play.
And of course, I have added plenty of mirrors. That was one of the first thing that struck me when I started studying Reggio-inspired blogs. Mirrors are primordial and can be found everywhere. And this is not just because they bring a sense of beauty to the classroom. They encourage depth of inquiry to any activity. Children who use mirrors soon start to use objects differently because of the 3 dimensional aspect the mirrors bring to the game. if the children are working with play dough on a mirror rather than a tile or a mat, the mirror suddenly becomes part of what they are creating.
Here is a quick look at the other materials I am using in the different areas I have now created:
I am presenting a SM environment using a board of felt (to stimulate senses), wooden animals and a miniature wooden farm.
Two wooden doll houses that can be played with individually or separately. Note the use of mirrors again to add to the experience and the different props to be used.
I also bought some little wooden gnomes and fairies on ebay and Etsy that can be use for any type of Small World pretend play.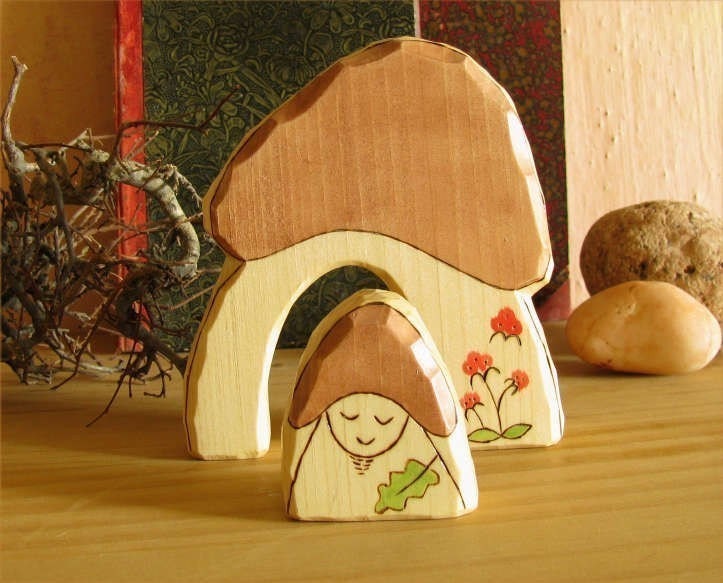 And the children will also be able to use the fabric and scarves there too:
and plenty of other natural items:
basket of shells (which could also be used in construction)
painted rocks

In the Construction area: 
bigger wooden blocks by the mirror

I am using the Montessori sensorial geometric solids here as they can add to the learning. They still can be used in the way Montessori has taught us and cards could be added to do so.
Smaller wooden blocks to build castles
driftwood
sticks I bounded together to be used as bridges or as enclosures
round wood cuttings
pebbles
pine cones



wooden props
Again, we will be using the Broad Stairs in the construction area for construction purposes but it will also be use for its original didactic purpose.




As I said before, this is an on-going transformation as I am still adding bits and pieces to our classroom. I keep taking photos as I do so and I will keep writing posts to show you all. We are going back to school on Friday and I am still trying to improve our new environment. Sometimes I look at it and I feel I haven't done enough or I have failed to create an harmonious atmosphere... Then I have to remind myself that it's a transformation in progress and that the children will lead me in the right direction once they are back.. I will be able to follow their interest and listen to their requests or wishes... Fingers crossed.